Nové recepty
Navštivte také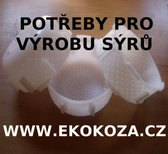 Sestavujeme si lis na sýr z toho co dům dal
Pressing the fresh curds to remove excess whey is important since spoilage of the cheese is hastened by retention of too much water in the finished cheese. This cheese press can be fashioned from items you may already have in your kitchen, or which should not be difficult to obtain. This protocol is intended to press the curd from making follows the recipe to turn five gallons of milk into cheese . Click the last two images ( 13 & 14 ) to see full sized pictures for what the assembled press looks like.
CHEESE PRESS MATERIALS
5 gallon canner
large white dinner plate with smooth bottom
white dish cloth (non-terry), very clean
pressing frame (6" x 9" PVC pipe or can without ribs on the sides, ends removed)
the "follower:" a circular block of wood cut to fit inside pressing frame (5.5 inches diameter)
5/8 inch wide rubber band cut from an inner tube
two chop sticks
quart mason jar
POSTUP
1. Place a large dinner plate inverted in the bottom of a canner (to keep assembly up out of the expressed whey).



2. Place presing frame can on top of plate.



3. Lie a very clean dish cloth over the can.



4. Push cloth down into the can to form a "bag."



5. Add salted curd into the cloth "bag."



6. "Sweep" all of the curd into the press.



7. Pull up on the corners of the cloth to remove wrinkles between curds and can.



8. Place wooden block on top of cheese



9. Press wooden block ("follower") down on top of curds.



10. Attach inner tube rubber band through canner handles with chopsticks



11. Pull up on attached rubber band, insert Mason jar underneath so that the band will press the jar onto the wooden block.



12. Press down on the jar to exert added initial pressure on curd. Aligh the tension of the rubber band so that the jar is vertical (and the board is horizontal).



Autor: David B. Fankhauser, Ph.D. Professor of Biology and Chemistry U.C. Clermont College Batavia OH 45103